Historic Jaegerthal
What a place steeped in history!
The steel dynasty "de Dietrich" had its origins here more than 350 years ago.
In what is now the park of Domaine Jaegerthal, the first blast furnace and a small hammer from the company de Dietrich were located until the end of the 19th century.
Even today you can visit the former smithy and ruins of the company de Dietrich here in the Jaegerthal, below the pond.
In the nearby town of "Reichshoffen" there is a museum of the de Dietrich Foundation with beautiful castings, cast furnaces, craftsmanship made of steel, as well as an oversized model of the blast furnace as it was once here on the property of the Maison de la Turbine. Here, in the Musée du Fer, you will be transported back in time to around 1870.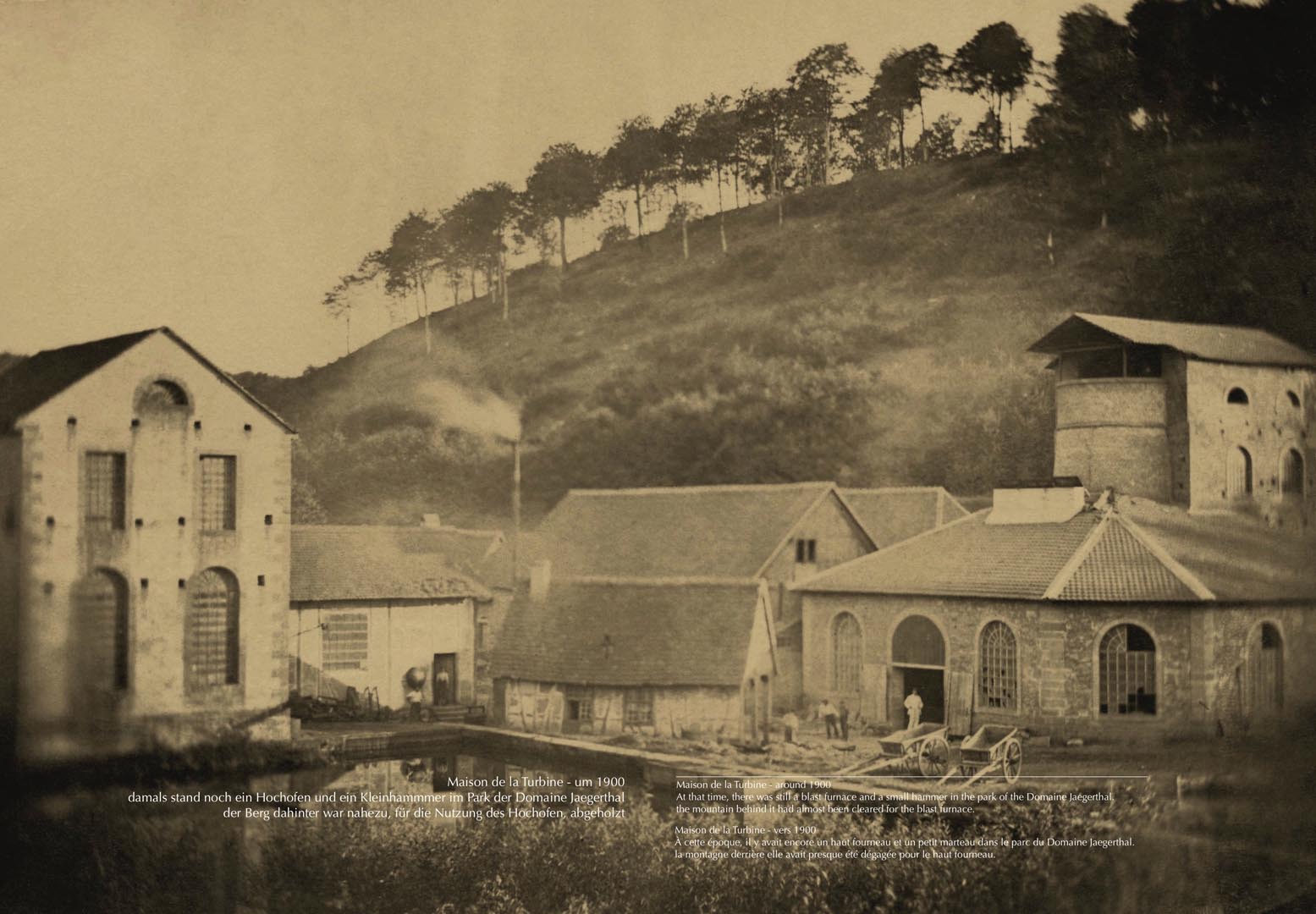 Jaegerthal (German originally Jägerthal) is a place with about 30 inhabitants in Alsace, which is northeast of Niederbronn-les-Bains in the Northern Vosgesand belongs to the municipality of Windstein. The place is named after the Count of Hanau mountain judge Adam Jäger, who founded an ironworks here in 1602. Jaegerthal is home to the famous French industrialist family de Dietrich, who bought the iron hammer in 1684. There was a brook there – the Schwarzbach – the trigger for a strong industrialization. In the Jaegerthal of the Northern Vosges, the ruins of the first iron smiths by de Dietrich are a reminder of the industrial development. Parts of the old buildings can still be viewed today and are freely accessible. The summer residence of the De Dietrichs is also here in the cool, wooded valley. The castle is privately owned and not accessible.
In today's park of Domaine Jaegerthal there was a blast furnace and a small hammer from the company de Dietrich until the beginning of 1900. This industrial building was dismantled around 1905 due to poor logistical connections and rapid expansion – production was relocated to Niederbronn and Reichshoffen. What has stayed is my Maison de la Turbine – an industrial site from 1871. This building was used as a turbine house to generate electricity until 1965 and supplied the neighboring castle, the school and some surrounding houses with the first electricity. Today this industrial building, the Maison de la Turbine – Alias ​​Mühle, serves as my very private refuge. It is my think tank and source of strength – an almost magical place. This is where the best ideas for my customers' gardens arise, this is where I receive my customers – the entire property, with the 15,000 square meter park and the associated forest, is the calling card of my creativity. The ideal place for the presentation of special trees, as I use them in the gardens of my customers, as well as for the presentation of art and sculptures.
Please note that a visit to the Domaine Jaegerthal is only possible by arrangement – otherwise the property is not accessible. Please respect my privacy and that of my guests.